Giving the Gift of Clean Water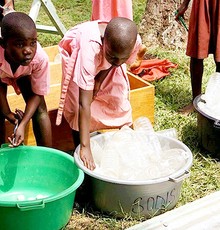 AWWOA members have first-hand knowledge of the importance of safe drinking water and proper sanitation. Therefore, they support charitable organizations that directly tackle community problems related to bad water. Monies collected through member fund raising are donated to The Water School, a global, non-profit organization dedicated to providing safe water and sanitation solutions in developing nations. 
Charitable Donations 2021
On behalf of your AWWOA Executive, I would like to thank all our operators, suppliers and guests for your attendance and interaction at our virtual Operators Seminar in March. I think it was a real success, mostly due to our AWWOA office staff and Executive members who went overboard to try and make it a good fit for every participant.

Prior to our March Operators Seminar, your Executive decided they still wanted to try and raise funds for our charity, The Water School. It was decided the AWWOA would donate $10 for every registrant and $20 for every speaker. With a lot of work from our office staff and Executive, we were able to offer The Water School a virtual exhibitor space. They provided a very informative video, information on other related activities and various methods to receive donations.

On behalf of your Executive, office staff, and The Water School, we are pleased to announce we received approximately $6,350 in donations. This is nothing short of remarkable considering this was accomplished as part of our Virtual Seminar.

All funds raised will go towards a borehole for a multi community group in Uganda. This community has a very large aquifer of clean safe drinking water right below them. The total funds required for this project are almost in place. The work will include drilling a borehole, installing a solar-powered pump, laying pipe within the multi-community, and installing nine pipe stands for the people of these communities. The opportunity to do this large project is primarily due to the generosity of The Global Water Fund, who matched dollar-for-dollar all our combined donations. Now that's generosity.

Thank you for your generous giving in this year of COVID, when it would have been very easy to fill other needs closer to home. Until we meet again, thank you all, for making a life changing difference for the people of Uganda.
Doug Thorson, AWWOA Charitable Donations Chair Person