Giving the Gift of Clean Water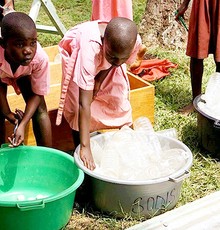 AWWOA members have first-hand knowledge of the importance of safe drinking water and proper sanitation. Therefore, they support charitable organizations that directly tackle community problems related to bad water. Monies collected through member fund raising are donated to The Water School, a global, non-profit organization dedicated to providing safe water and sanitation solutions in developing nations. 
Charitable Donations 2022
For those of you that don't know me, my name is Bert E. Miller. I served on the Board back in the 90's and have now returned to the Executive in the position of Charitable Donations Chair.
We would like to thank our members, suppliers, and guests for your attendance at the Annual Operators Seminar. After a two-year hiatus due to COVID, it was delightful to see so many familiar faces. Thank you to everyone who participated in the charitable donation activities, from the 50/50, mulligan and raffle draws at the 2021 Golf Tournament in September to the Seminar 50/50 draws, the guess jar and silent auction. Your participation makes our charitable donations successful. The total amount of donations received in 2022 amounted to $23,509. Thank you everyone!
In 2022, the AWWOA has selected two Water School projects in Uganda. The first is the Busabira Primary School in the Kayunga District with 703 children and teachers. These children and teachers suffer from typhoid, diarrhea, worms and stomach aches. One can only imagine how difficult it must be to function with such issues. In Uganda, 33 children die daily from diarrhea alone. The Water School will not only provide clean safe drinking water, but tippy taps for hand washing, rainwater collection, teaching in health and sanitation and how to build safe latrines. When you consider every child can have all the bottled water they can carry, the number of people who benefit is tripled.
The second project chosen is to partner with other charitable donation groups to construct a solar powered bore hole. The clean safe drinking water will supply a minimum of three user communities as well as three new tap stands. I honour all of you who have donated to our Water School projects. As Calvin Coolidge said, "No person was ever honoured for what they received, honour has been the reward for those who give."

Best Regards,
Bert E. Miller, Charitable Donations Chair
Doug Thorson, Charitable Donations Committee Member