Giving the Gift of Clean Water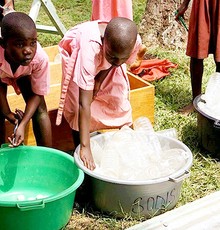 AWWOA members have first-hand knowledge of the importance of safe drinking water and proper sanitation. Therefore, they support charitable organizations that directly tackle community problems related to bad water. Monies collected through member fund raising are donated to The Water School, a global, non-profit organization dedicated to providing safe water and sanitation solutions in developing nations. 
Charitable Donations 2023
We would like to thank our members, suppliers, and guests for your attendance at the 2023 Annual Operators Seminar. Thank you to everyone who participated in the charitable donation activities, the 50/50 draws and the Silent Auction! Your participation and generosity make our yearly charitable donations a success. Our donation to the Water School this April was $23,940.00. 
The project that our AWWOA donations will be championing in 2023 is a 'Motorized Borehole Expansion' in Petta, Uganda. Petta, is a sub-county in Eastern Uganda that has a new motorized borehole that was recently built. It serves 2,450 people across four communities.
With AWWOA' s help, the plan is to extend the reach of the borehole to help an additional 2,560 people in three more villages, which will include 1,016 students at Mbula-Machari Primary School. This 2.7 km expansion would provide 25 litres of clean water per person per day in these communities through one new public tap stand in each community and a tap stand at the school. Included in this, all 512 households in these communities will participate in Water School's flagship hygiene and sanitation training.
Thanks again for your thoughtfulness and generosity!
Best Regards,
Bert E. Miller, Charitable Donations Chair