Giving the Gift of Clean Water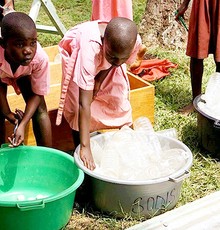 AWWOA members have first-hand knowledge of the importance of safe drinking water and proper sanitation. Therefore, they support charitable organizations that directly tackle community problems related to bad water. Monies collected through member fund raising are donated to The Water School, a global, non-profit organization dedicated to providing safe water and sanitation solutions in developing nations. 
Charitable Donations 2020
Our Operators Seminar in Banff, Alberta for 2020 was a success on many fronts. We carried out several activities to collect donations for our 2020 water project. Some of the activities included our candy guess jar, watch and wood model, Monday and Tuesday 50/50 draws (both claimed), speakers gift donations and our great silent auction. I want to say a special thanks to our members, suppliers and guests who most graciously donated items for the silent auction. Without your generosity there would be no silent auction.
One of the highlights of the Seminar opening was a presentation by Dave Ericson, representing The Water School. He spoke to a packed auditorium on some of the Association's past successful projects and the positive impact our donations make on children and parents in Uganda. While we normally choose projects (Primary Schools) in water and wastewater, we decided, along with The Water School, to share in a slightly different project.
This year our donations will go to drill two Solar Bore holes in the center of three villages. The villages are in a rain-shadow area, that is they receive little or no rain. The bore holes will be approximately 80 meters deep and solar energy will power the pumping of water to the surface and then gravity to all three communities. This will offer clean safe drinking water to several thousand people. A water committee will be set up in each village to manage the maintenance and operation. The Water School has already received a good chunk of funding for this project. With the addition of our funds, The School feels assured the remainder of funds for the project will be forth coming shortly.
I saved the best news till last. You raised approximately $19,300 this year for our Charitable Donations project. Thank you all very much. Please stay safe and healthy, until me meet again.
Doug Thorson, AWWOA Charitable Donations Chair Person