Is a Career in Water Right for You?
posted on Jul 5 2019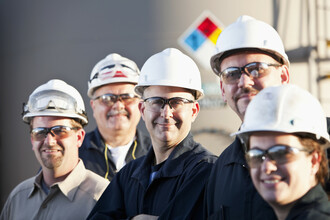 Have you ever thought about where your water comes from or where your water goes when you flush the toilet? Have you ever wondered who is responsible for ensuring you have immediate access to clean drinking water?
These behind-the-scenes people provide a critical role in ensuring the health of the public and the environment. Water and wastewater professionals are responsible for ensuring systems are running smoothly, water is treated properly and transported efficiently. 
What is the water and wastewater industry?
The industry boasts a great deal of variety and includes four different disciplines including water treatment, wastewater treatment, water distribution and wastewater collection. Operators can obtain small systems certification up to Level IV certification. Positions include engineers, treatment plant operators and lab technicians. Needless to say there is ample opportunity to grow and move within the field.
Everybody needs water and sanitation is entirely dependent on this industry and the people who work in it.
What does a water/wastewater operator do?
The day of water/wastewater is far from typical. The type of work is dependent on the municipality and plant. Some responsibilities include:
Checking plant equipment including pumps, clarifiers and other machinery
Completing readings including flow rate, pump meters and water temperature
Monitoring data through the use of a SCADA system
Performing maintenance on equipment e.g. fixing broken pipes
Collecting and testing water/waste and sewage samples for bacterial content
Measuring, mixing and transporting chemicals to maintain feed stocks
Regulating flow of sewage through settling, aeration and digestion tanks
Upholding plant logs and reports including security checks in and around the plant
How do I get in to the industry?
In order to obtain Level I certification, an operator must have one year of work experience and complete an Entry Level Training requirement. AWWOA offers Alberta Environment & Parks approved training, but acquiring work experience can prove a bit more challenging. Here are some tips on how to get your foot in the door:
Just apply: Some municipalities are willing to train applicants to fulfill requirements for certification. You never know unless you try. Whether or not you want to work for a big company or city, don't forget about the smaller towns and villages when looking to get started. While you may be uncomfortable, the experience you will gain is invaluable.
Take a labourer job: Look for labourer positions and find opportunities to work your way up within the field. Take on extra jobs when they become available and show an interest in the roles and responsibilities of a water/wastewater operator.
Take courses: In Alberta, the Entry Level Training component is required in order to apply for certification. If you take the course prior to your experience, it shows a potential employer your interest and willingness to work hard.
Why should I become an operator?
Working in water and wastewater provides a great opportunity to work in an environment where you'll be solving problems and working towards solutions. Some examples including working with aging infrastructure and adapting to the availability of our long-term water supply. The field is also future-driven. New technologies are constantly being developed to help water professionals in day-to-day operations and provide ways to adapt to the changing climate.
If you're innovative, methodical, mechanically inclined and have an interest in taking care of people and the environment, this might be the career path for you!
For more information on what it's like to work in the water and wastewater industry, visit the ALIS Alberta website. For more information on the certification process, visit the Alberta Environment & Parks website.